Webinar: what do we know about MNPLs carcinogenesis?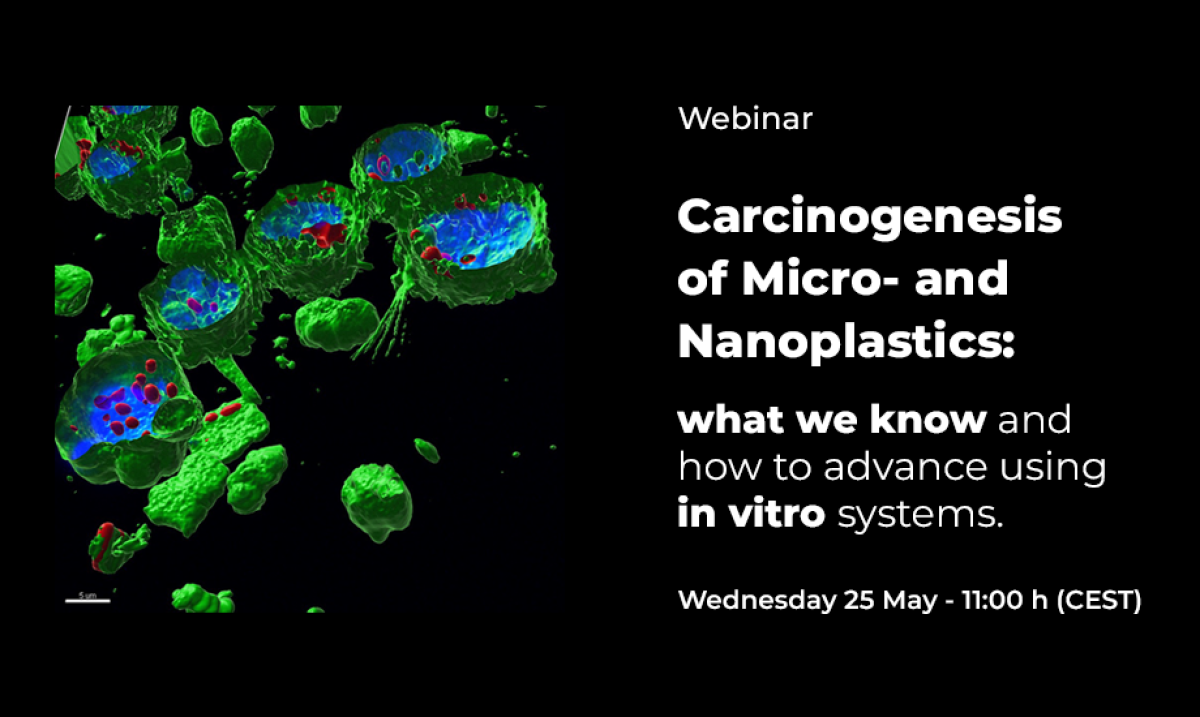 PLASTICHEAL will held a webinar on May 25th to discuss about the potential long-term effects of MNPLs exposure.
Registrations are now open for the first PLASTICHEAL webinar: "Carcinogenesis of micro- and nanoplastics: what we know and how to advance using in vitro systems". It will be focused on the potential long-term effects caused on the human health by MNPLs exposure.
The event will be held online on Wednesday May 25th from 11 to 13h00 CEST and the registrations are available at this link.
MNPLs carcinogenic potential
Traditional animal cancer bioassays are of limited practicality for use in large-scale chemical testing programs such as the EU regulation REACH (EC, 2007) due to the massive number of animals needed and its high cost and time.
There are in vitro assays based on the detection of mutagenicity and genotoxicity as surrogate carcinogenic markers, but animal testing is necessary to confirm the obtained results in vitro and leaves non-genotoxic carcinogens out of the scope. Several in vitro cell transformation assays (CTA) have been developed as quicker and more cost-effective alternative methods for detection of carcinogenic potential, but some issues are still present and prevent from its wide use in basic research and for regulatory purposes.
The webinar
Josefa Domenech, post-doc researcher from the Finnish Institute of Occupational Health (FIOH), will open the first part of the webinar describing the situation of MNPLs and the current state of scientific knowledge on their carcinogenesis.
Irene Barguilla, post-doc researcher at the Cancer Research Centre of Lyon (CRLC), will then describe some methodologies to study this problem minimising the use of animals.
To close the first part, Alba Hernández, from the Department of Genetics and Microbiology of the Autonomous University of Barcelona (UAB) and PLASTICHEAL coordinator, will offer an example of PLASTICHEAL's findings on MNPLs transforming potential.
Next, there will be a roundtable with experts from different fields to bring together researchers and regulators to analyse the regulatory framework of MNPLs, as part of PLASTICHEAL's aim to ensure the impact of the developed methodology and gained knowledge on current and future regulation.
Véronique Maguer-Satta, research team leader at the BMP: Ecosystem, Stemness & Dynamic in Cancer lab from the CRCL, will explain how in vitro methodologies can be used in the study of different targets related to carcinogenesis, such as the stem cells.
Martin Rose, former EFSA CONTAM Panel member and member of PLASTICHEAL Advisory Board, will talk about pathways/sources of long-term human exposure, with an emphasis on -but not limited to- food.
Both will be joined with speakers yet to confirm, to discuss about additional issues such as MNPL's main definition, the differences between primary and secondary MNPLs, and the impact that these issues have on their potential regulation. The roundtable participants will also address the relevance of in vitro methodologies as an alternative to the use of experimental animals and what key questions should be considered for these methodologies to have a greater role in the future at the regulatory level.
More information:
https://www.plasticheal.eu/en/news/events/webinar-what-do-we-know-about-mnpls-carcinogenesis